Innovation is the key.
At Dexter, our engineering team prides itself on its ability to take the difficult jobs our competitors can't do and turn them into smoothly running programs. Although we are not design responsible, we happily provide engineering support for manufacturing feasibility. Our approach for every job is to provide a superior part with innovative streamlined processes.

For example, we've developed an in-house proprietary process to extrude and burnish stampings in one hit. The result produces an inside diameter with a polished micro-finish, perfect for sealing. Our engineers are also experts in Sükosim - a process which combines deep-drawn stamping and cold forming.
In addition, we have in-house tooling support for die maintenance and we design and build many of our own gages.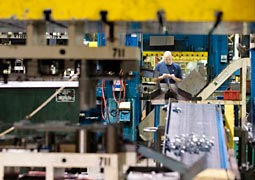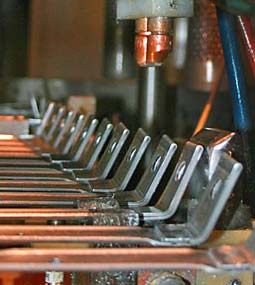 This in-die welding operation utilizes unique lower cost tooling which requires less handling – resulting in a significant savings. Innovations like this keep our customers coming back.

Gage Design and Build
Tool Design Support
Focused APQP Model to check feasibility and follow programs
Complete Project Management from concept to completion
CAD Programs
AutoCAD Mechanical Desktop 2008
STP and IGS
Conversion for Other Files Available