With a 1200 ton press, we are great under pressure!
From small, dime-sized fasteners to 6mm thick stampings with thick-walled extrusions, we are an experienced supplier of a wide range of safety-critical parts.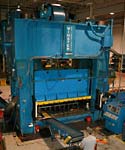 Our expansive collection of 25 well-maintained, top-of-the-line presses, featuring Muller-Weingarten and Minster, range from 35 tons up to 1200 tons, and can accommodate dies up to 18 feet long.

We even offer Sükosim – a proprietary process that combines deep-draw stamping with cold forming to produce complex, fully-integrated, durable components.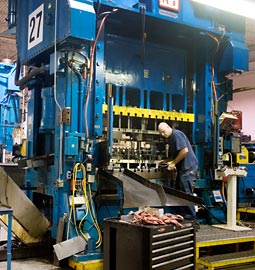 Muller-Weingarten Press

Progressive and Line Dies

Burnishing
Presses
(equipped with computer-assisted monitoring systems):
1200 Ton Minster
1000 Ton Muller-Weingarten
800 Ton Verson
600 Ton Minster (x2)
500 Ton Minster
300 Ton Bliss
300 Ton Minster
300 Ton Niagara (x2)
250 Ton Bliss
200 Ton Niagara
200 Ton Bliss
150 Ton Bliss
45 Ton Bliss (x2)
35 Ton Bliss (x4)