We Don't Do 'Vanilla!'
We at Dexter Stamping Company have carved a niche for ourselves as a supplier of difficult stampings at competitive prices. Typically, we provide the most value for the tough parts our customers are not comfortable placing with "Low-Cost-Country" (LCC) sources.



We're the "go-to" supplier for items used in safety-critical systems such as fuel handling; safety restraining; and braking – just to mention a few.

The size range of our products is nothing less than impressive. We produce everything from small, thin fasteners to ¼" thick, heavy-duty suspension brackets with hefty extrusions.

What can we do for you?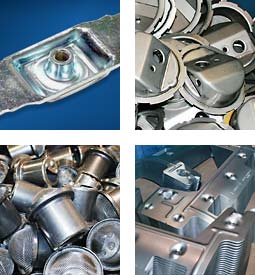 From upper left: thick-walled extrusions, stainless steel fuel flanges, oil baffle sub-assemblies, steering column brackets.
Our Products
Safety-Critical
Underbody & Chassis
Under the Hood
Interior
Climate Control / Instrument Panel