Dexter Stamping Company: a world class stamping house.
Since 1955, we at Dexter Stamping Company have been steadily enhancing our our core capabilities, evolving into a world-class stamping house. We actively seek the type of work that makes other stamping houses hesitate. In short,"We don't do vanilla!"
With presses ranging from 35 tons up to 1200 tons we can stamp just about anything. Our Muller-Weingarten is able to accomodate tooling up to 216" long – perfect for our leading edge extrusion process known as Sükosim.
Our presses are complimented nicely by an extensive resistance welding department as well as a variety of other
in-house, secondary processes including tapping, tumble deburring and parts washing.

Words we live by.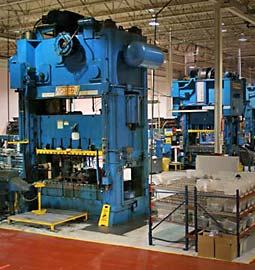 An arsenal of presses.
secondary Processes
Tumbling
Washing
Tube Forming
and Bending
Value Added Services
E-Coat
Various Platings
Heat Treating