Literally "tons" of experience working with difficult materials.
At Dexter Stamping, we specialize in difficult materials such as stainless steel and aluminum. In fact, we have grown to become one of the largest users of non-trim, coiled, stainless steel in the United States.

We're also very familiar with both hot & cold rolled steels and most other ferrous and non-ferrous materials typically used in automotive and other applications.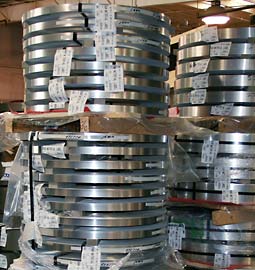 Stainless Steel
All 200, 300, and 400 Series Alloys
Available in Special Finishes and Tempers
Other Materials
High Strength Low Alloy (HSLA)
All Mild Steels
Spring Steel
Aluminized; Galvanized and Galvannealed
Aluminum and Brass
Capabilities
Material Thicknesses: 0.009" (0.229mm) to 0.250" (6.35mm)
Coil width: up to 55" (1400mm)